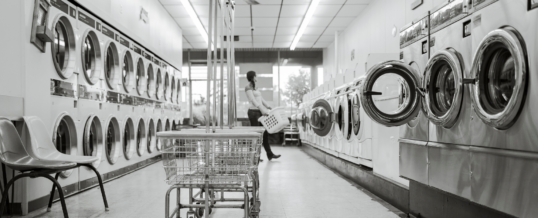 Do you own a small to medium-sized business in Texas? If so, Texas Commercial Insurance is the perfect choice for your insurance needs! We specialize in quotes for Business Owners Policies, or BOPs, and can help you customize the perfect policy for your business. Why do you need a BOP? Check out the experiences of Grady and Vern and learn from some of the hazards they faced.
Vern inherited a small laundromat from his uncle. It was near a busy shopping area in San Antonio, and generally had plenty of steady business.
Vern worked hard to get the place updated and got the business end of things put into good order. He found a local insurance agency to help him customize a business owners policy that fit the needs of his very public place of business. It wasn't long after Vern took over the laundromat that he faced a potentially bad situation. One of the regular customers tripped in the doorway and fell while holding a large basket of laundry. Her wrist was badly broken, causing her to rack up lots of medical bills, as well as months of lost income. If it weren't for Vern's foresight in setting up a good business owners policy, that accident could have ruined him. As it was, Vern's insurance kicked in and took care of his customer's expenses.

Grady's story is similar. He took over a computer repair shop that his dad had managed for many years. It was located in a small office building in Fort Worth, Texas. Grady knew his dad hadn't been the savviest of businessmen, but the repair shop had done well enough. There was a sticky situation one day when Grady discovered his shop was broken into. Several laptops had been stolen, along with some boxes of parts that were recently delivered. Unfortunately, he hadn't gotten any type of insurance set up after he took over the shop from his dad. Grady had to pay for the replacements out of his own pocket, and it set him back for a long time. The first thing he did after that incident was to set up a BOP for his shop, ensuring that he would be covered from possible future threats. It had been a painful lesson to learn, but he realized it could have been much worse.

If you are a business owner, having your own BOP is a must. It doesn't matter how well things have gone for you in the past, the future is never guaranteed. Risks and perils are constant companions when it comes to any type of business. Each business holds its own unique insurance needs. Give Texas Commercial Insurance a call today, and let us walk you through some of the options available. We can help you customize a policy that will fit the specific needs of your particular business.